Diaries are different. They are kept to document memories in real time. They are not like letters. Letters are written to let someone know what you have experienced. Diaries are for yourself; letters are for other people.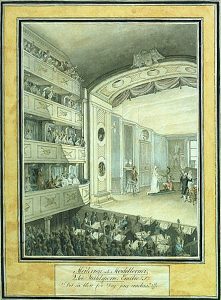 When I read Augusta's diary, I am sometimes surprised at what she doesn't describe or discuss. On 10 March 1851, she went to the Royal Theatre (housed in Gustaf IIIs Opera House) in Stockholm and saw a play. She didn't write anything about the performance; of more importance was the fact that a count escorted her home.
Stockholm, March 1851
"Since Saturday evening I am here in Stockholm, our Swedish Paris, the dance-hungry's Eldorado." 
"Monday morning I went to visit Ribbingens and Bohemans. They were overly astonished to see me so unexpectedly in the Capital City, and in the evening we saw the great opera, "A Tale of the Queen of Navarre." There I met Count Figge Schwerin, who escorted me home and was quite himself, much disposed to let his lady alone carry on the conversation and himself look like he was sleepwalking."
So what could I find out about the performance she saw?
It took me less than an hour to get some tidbits about it!
I first searched the Swedish Royal Opera's archives. They have all performances listed back to 1773. All I had to do was to search on the date Augusta visited the theatre. There it was: "A tale of the Queen of Navarre – A Comedy in 5 Acts". I found that the opening night was the 3 March and they gave 7 performances. The poster for the play showed the actors and the prices for the tickets.
Augusta was 23 years old. If I were to pick one actor that she could have written about, who would it be? The roles in this play included:
Males: King of Spain, King of France, Spanish Minister, French Count, and 3 Not-So-Important Guys.
Females: Sister of the King of Spain, Sister of the King of France, and the Fiancé of the King of Spain.
I am sure all the kings and the count would have been fascinating, but the fiancé of the King – Isabelle of Portugal – would probably be the one a 23-year-old would have found most interesting.
So I picked her.
The role was played by a Mademoiselle Jacobson. She was the only young, unmarried woman in the play. Who was she?
Elise Jacobson has a whole Wikipedia page under the name Elise Hwasser. In short, she was 20 years old when she played the role of the royal fiancé. She was not yet famous but she was part of the circles of the Swedish Crown Prince Charles (later King Charles XV), and rumored to have had a short affair with him.
Another friend of the Crown Prince was Daniel Hwasser. They had become friends as students in Uppsala. Daniel was a great tenor. Their friendship resulted in Daniel getting a position as director of the Royal Theatre. It is rumored that the Crown Prince advised Elise to marry Daniel. Regardless, Daniel and Elise married in 1858. She became one of the leading female actresses in Stockholm and had a life-long career. She and her husband spent their summers at Ulriksdal where they socialized with the Royal Family.
Elise Hwasser (1831-1894)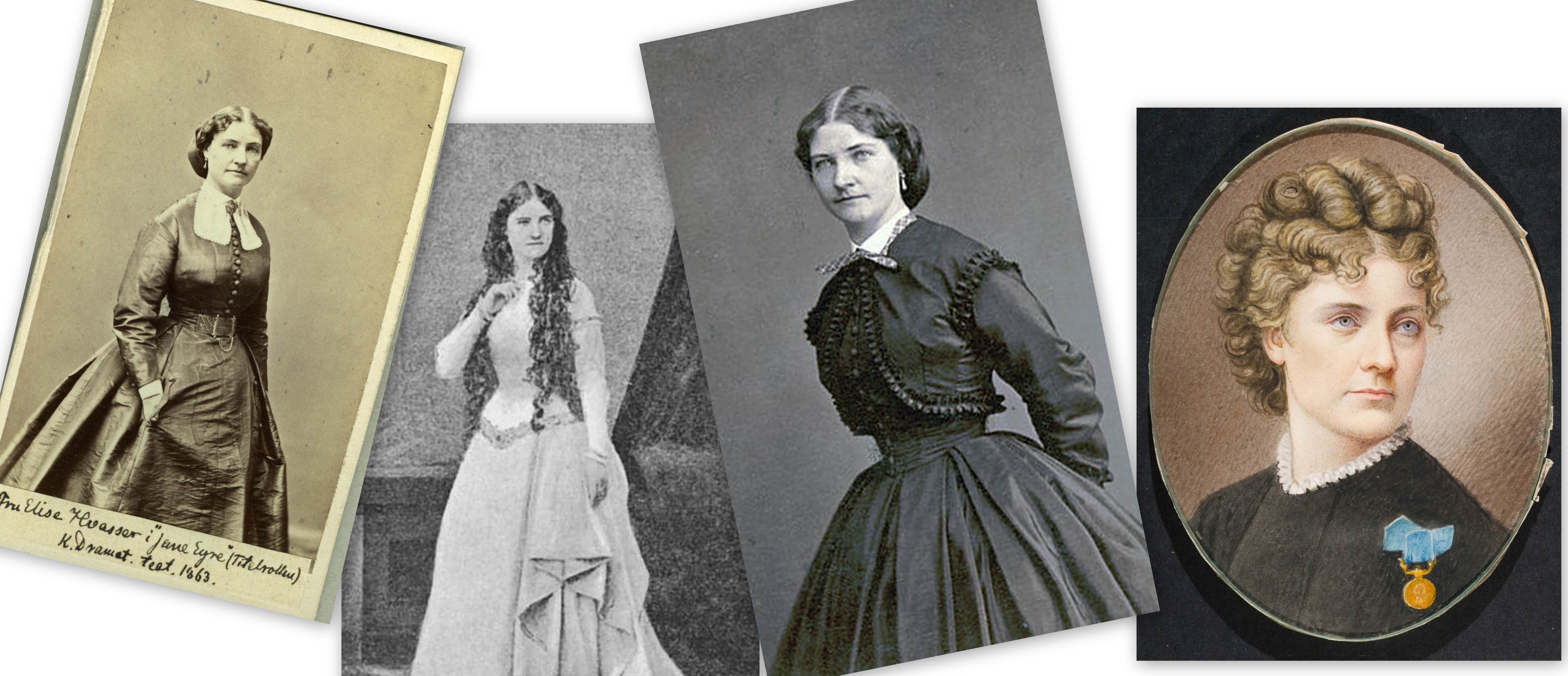 Of course, when Augusta saw the play, Elise was not yet famous and maybe she was not interesting enough to write about. On the other hand, Count Figge Schwerin, who accompanied Augusta home from the theater, might have been very interesting. Unfortunately, we still don't know who he was. One possible candidate is Fredrik Bogislaus (Fritz) von Schwerin, who was born 18 July 1825 in Norrköping and, according to the census records, was residing in Stockholm.