"Rowed over to Loddby and Augusta came back with me to Krusenhof. In the evening, Tante and August came over." 31 May, 1848
Erik Hjort was 16 years old when he wrote those lines in his diary. Augusta lived at Loddby and Erik and his siblings, Aurore, Nanna, and Axel lived across a small bay at Krusenhof.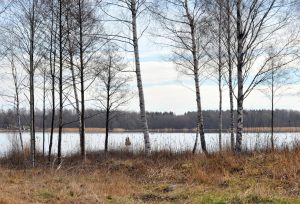 I can see Erik and Augusta in the rowboat in the middle of the bay. Erik is by the oars; Augusta is sitting on the stern thwart. The day is calm and you can hear their voices and laughter even though they are still far away. What did they talk about?
Erik's diaries give glimpses of the daily life at Krusenhof – going to town (Norrköping), to church (Kvillinge Parish), out riding, rowing, walking, driving the carriage, and visiting friends.
Would he and Augusta have written diary entries on the same days and mentioned each other?
Two weeks ago I got copies of 7 pages from his diaries during 1848-1849. Unfortunately, Augusta summarized 1848 in one sentence:
 "I spent the winter and summer of 1848 at home in deepest solitude, sometimes interrupted by a visit from and to Krusenhof."
In January 1849, Augusta went to Stockholm with her relative, Hanna Schubert, and didn't return until July. They spent the whole winter and spring enjoying the social life in Stockholm – summarized in just one short paragraph. I am sure she wrote lots of letters to friends instead. The rest of the year also just got a short paragraph – she was mostly living at Loddby, with the exception of a few weeks visiting the Schubert family at Fullerstad and a few days visiting Hjorts at Krusenhof.
But what did Erik write? He visited Augusta almost every other day, and Augusta also visited Krusenhof and spent a lot of time with Erik's older sister Nanna. In the diary, he sometimes uses nicknames for Augusta: Gufsa and Guss.  Here is a sample of his writings from July 1848:
7th.  Gufsa came over with Nanna.  In the evening, we went to a wedding in Björnwiken and I accompanied Augusta home to Loddby and then got home at 2 in the morning.
11th.  Dressed in Nanna's clothes, rode to Loddby where Augusta was home alone until the evening when the others came home.
27th.  In the morning, was in town for an errand. In the afternoon, with Nanna to Loddby for Guss' birthday.
Now, did any other of their friends or family members write diaries as well? And if so, how would one find them?