Today, we are finally going to visit Skånelaholm Castle. Two winters ago, before the pandemic, I wrote about Augusta's friend Lotten Westman's visit to Skånela parsonage and Skånelaholm Castle:
Lotten Westman's visit to Skånela parsonage and Skånelaholm Castle
You can get to Stockholm's international airport either by train or by car. Either way, you will pass Rosersberg, a small community northwest of Stockholm.  In the winter, there will be stretches of snowy fields, small farms in the distance, and dense evergreen forests. It would look like a Christmas card.
If you are going by train from Stockholm, you would get off at Rosersberg and take the connecting bus 577. That is how you get to Skånela Church and Skånelaholm Castle. I have never taken the bus and never visited the places. But now it is on my list for next summer's excursions! (That was my thought before the pandemic changed all plans)
The reason?
I just can't let go of an image of a teenage girl, dressed in a warm wool dress with layers of petticoats and shawls, practicing target shooting with a pistol in the castle garden or sledding down some slope, shawls flying. And in the evening, dressed in a silk ballgown, dancing in one of the castle's halls.
"My dear Augusta!
Thank you, my dear friend, for your long-awaited letter; you will not be angry with me for letting you wait a few mail-days for an answer. I have been thinking of writing to you each mail-day, but as you see, this has not happened. This Christmas has been the nicest one I can remember. First, we spent the Christmas holiday or, rather, the Christmas days as usual with our family. Then we traveled out to the countryside, to Pastor Schröderheim, where we spent 14 days – the most pleasant days you could ever imagine. We went to several balls at the neighbors, we went sledding, and in the evening, when we were at home, we sat in Uncle's room and read aloud. I learned to shoot with a pistol and to drive a horse. On the way home I drove 10 miles* and then the whole length of Drottninggatan [Queen Street] all the way to our door. (Lotten's letter to Augusta, Stockholm, February 9, 1847)."
Augusta's friend, Lotten Westman, was a wealthy city-girl. She was born and raised in Stockholm. Lotten and her sister Clara lived with a foster mother after becoming orphans. But the sisters had many aunts and uncles in Stockholm and distant relatives in the countryside. Those were the families they visited during the holidays.
Pastor Göran Ulric Schröderheim was one of them. He had married his cousin, Anna Charlotta Westman, and both were also Lotten's father's cousins. Schröderheim had been a pastor at the Royal Court but was now pastor at Skånela Church north of Stockholm. He and his wife had two sons, Göran and Johan.
"The pastor's wife is a very decent, but ordinary woman. The sons, the lieutenant and the student, are also decent, especially the latter who was my real favorite. He is the most cheerful and kindest man you can imagine. Because we had had such a happy and fun time there, the first days after my return were so quiet, and I especially missed my favorite."
Lotten liked Johan who was a student in Uppsala. He would in1858 marry his neighbor at Skånelaholm Castle, Hedvig Lovisa Juliana Jennings.  The same neighbors whose balls Lotten had attended.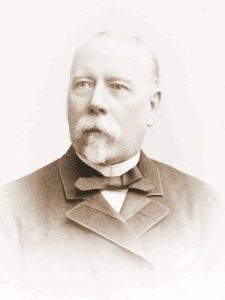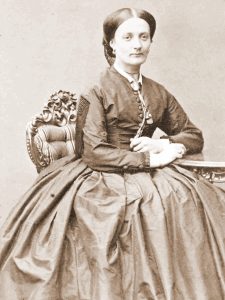 "Let's see if we can get back there this summer. Then, with nature in all its splendor, it must be glorious, for even now during the winter it was sincerely pleasant."
Did Lotten go back in the summer?
Our visit to Skånelaholm
Kerstin and I have picked a glorious day to visit Skånelaholm. We are going by car. Our dresses fill up the entire front seats. I wish Lotten could see us.
We connect my iPhone to the Apple CarPlay in the dashboard and ask Siri for directions. She answers in English even though we are in Sweden. Estimated arrival time is 4 pm. Unfortunately, that is the time that Skånelaholm castle closes for the day. Maybe we can make it before closing?
The winding road through large fields of oats and flax is delightful with their hues of green and blue. Lotten would have loved it. But how would she have described travelling in a car – the comfortable seats, the speed, and the air conditioning?
The last hundred meters of the road to the castle is lined with tall trees. Then we see the most beautiful little pink castle! It is 5 minutes before closing. We park and dash to the office located in one of the wings. Of course, we will not be able to tour the castle this time, but we chat with the women in the gift shop and buy ice creams. We are more than welcome to explore the gardens and the park, and we promise to come back again.
And then we are alone by the castle. We stroll through the park where Lotten would have practices pistol shooting and then find some chairs by the lake where we can sit and eat our ice creams.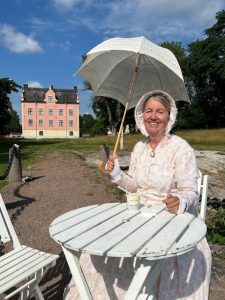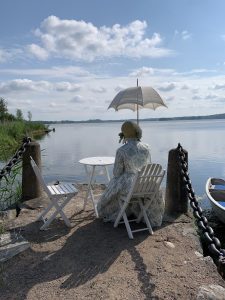 Yes, Lotten, with nature in all its splendor, Skånelaholm is a glorious place!