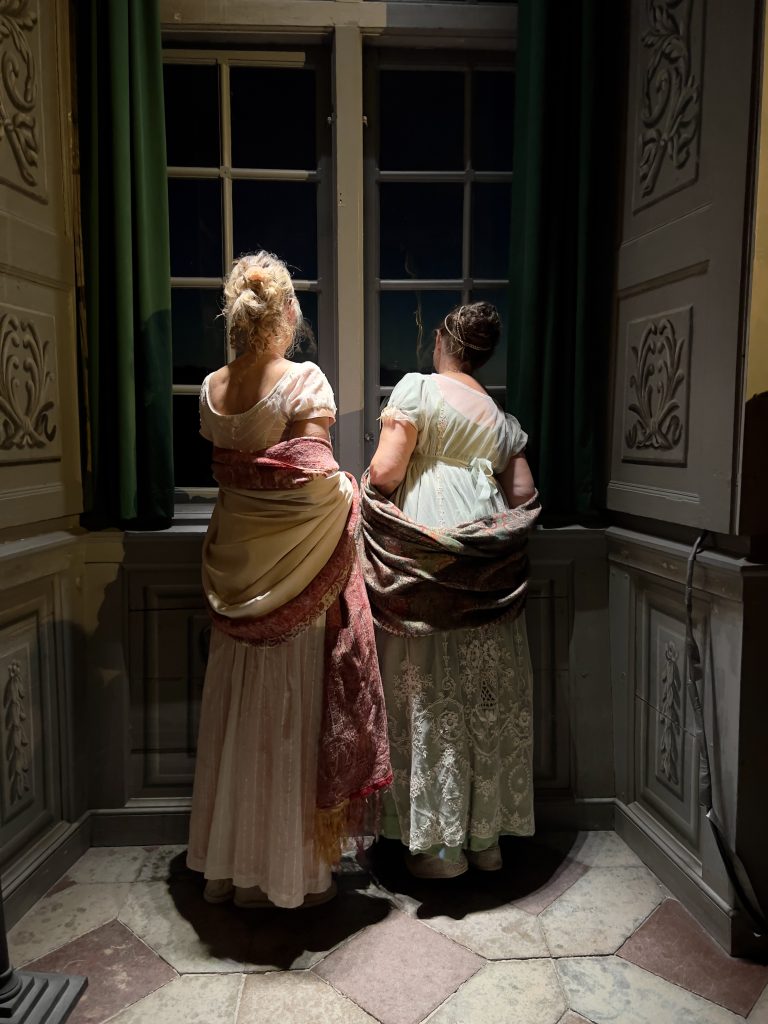 Förra året skulle vi gått på empirebal på Skokloster. Kerstin
bloggade om Augustas mammas bröllop
1805 som var precis temat för balen och vi förberedde oss verkligen för tidigt 1800-tal. Eftersom vi bara har klänningar i 1840-1850-talsstil så fick vi sy nytt. Vi sydde och sömmade, först provklänningar och så till slut balklänningarna.
Sara hade en favoritförbild, Jane Fairfax i Emma-filmen från 2020, med sin aprikosfärgade balklänning.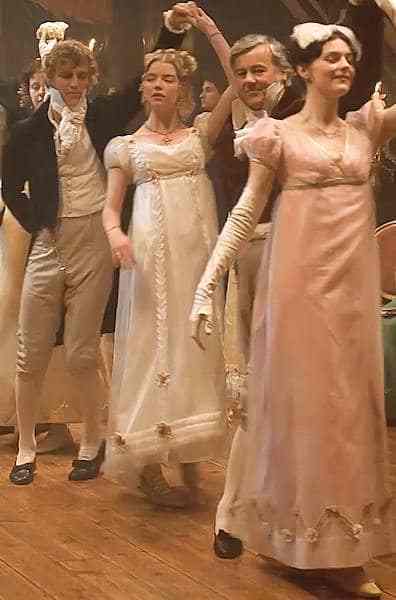 Kerstin hade först tänkt sy en 1820-talsklänning med smock och pärlbroderier men då balen skulle ha temat 1805, hittade hon äntligen en användning för en fransk tyllgardin som länge legat på hyllan i väntan på något speciellt tillfälle.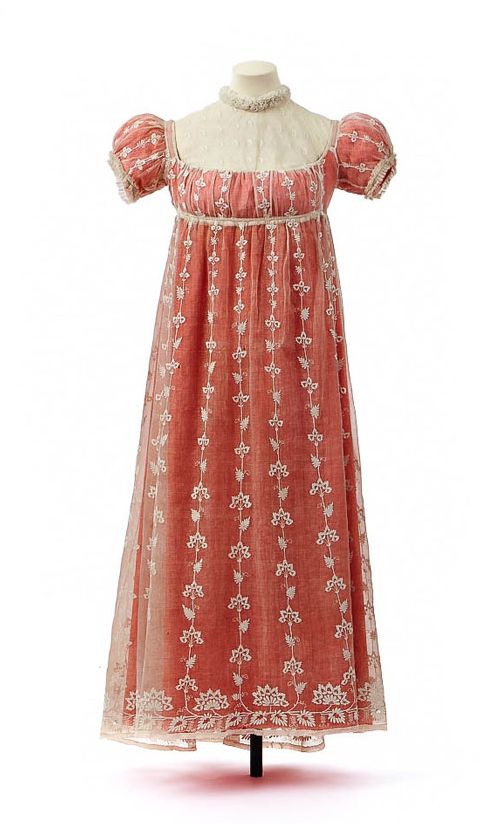 Och det måste man ju säga att balen skulle bli. Förebilden blev:
Town dress with chemisette owned by Empress Josephine, First Empire From the Chateau de Malmaision Costume Collection, men underklänningen skulle bli grön.
Sara funderade också på att ha en underklänning och en tunnare över. Ikeagardinen Matilda blev perfekt, men ändå inte, den var för vit. Så började de kemiska experimenten i Saras kök på Saltarö. Provfärgning i te, kaffe och till och med gurkmeja! (Sara är faktiskt proffs. Hon var en av vinnarna i Unga forskare på 70-talet med sina upptäckter i samband med växtfärgning)
Kerstin åkte till Finland för det årliga besöket i stugan vid Bottenviken. Med sig släpade hon sina tyger och handsydde till långt in på kvällarna i kvällssolen som inte går ner förrän kl 22. Den enda större spegeln fanns i bastuhuset så hon fick springa barfota med balklänningens släp som ringlade sig genom lingonriset.
Vi blev klara i tid! Kerstin kom hem med färjan och vi träffades åter på Saltarö där vi visade upp våra alster för varandra.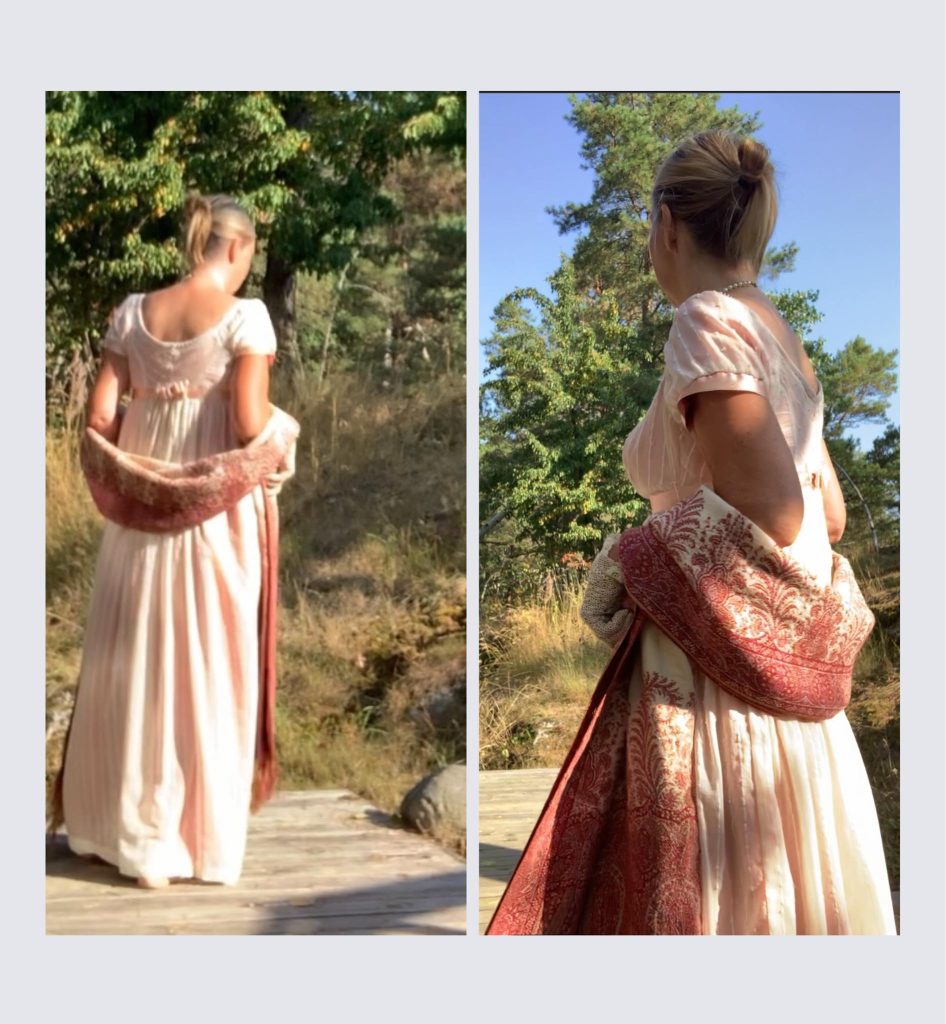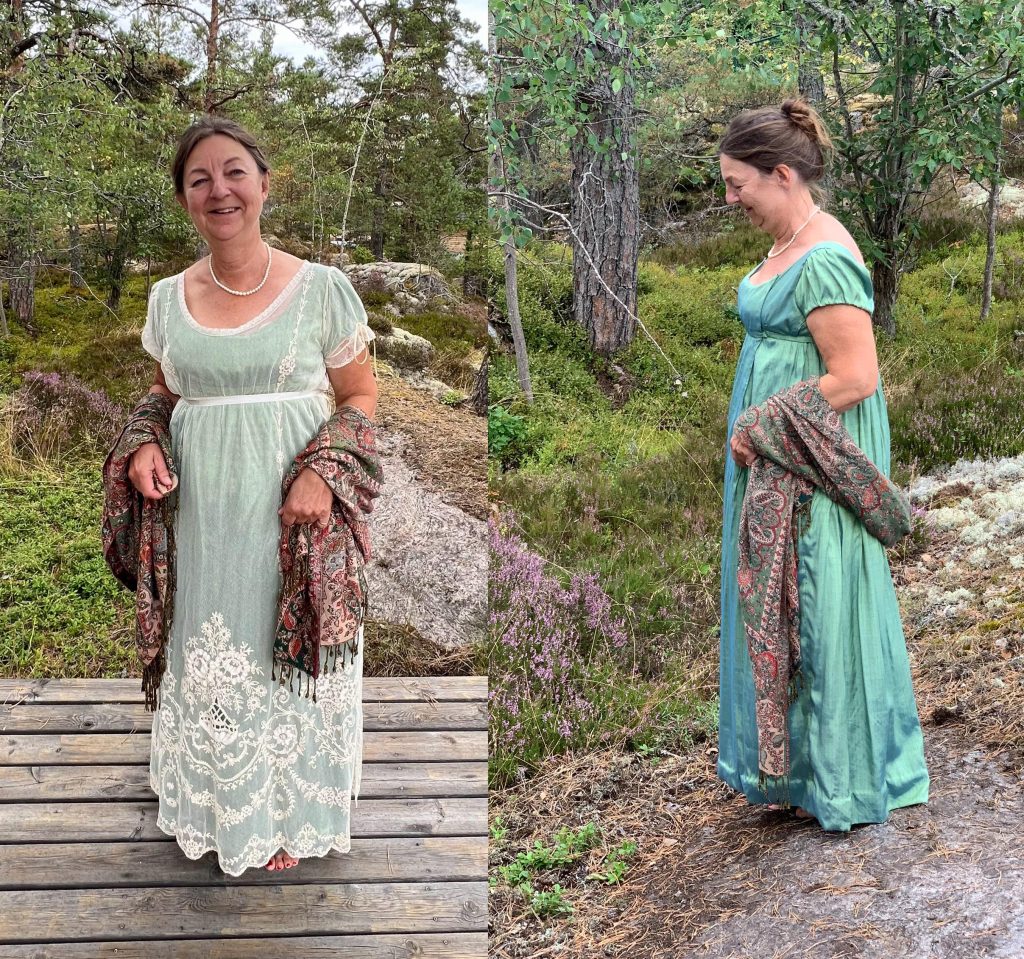 Men sedan drabbades vi av sjukdom i familjen och hela balprojektet fick packas ihop och läggas i malpåse till ett annat år (eller i "balpåse" kanske) och Sara åkte hem till USA.
I år aviserade Sara att hon skulle komma till Sverige i Augusti! Och samtidigt annonserades att det skulle bli en empirebal på Skokloster i Augusti igen!
Vi plockade fram våra väskor med empirekläder och gladde oss åt att temat fortfarande skulle vara tidigt 1800-tal.
Och i lördags klädde vi oss i våra klänningar och for till Skokloster, där vi var med om en makalös bal!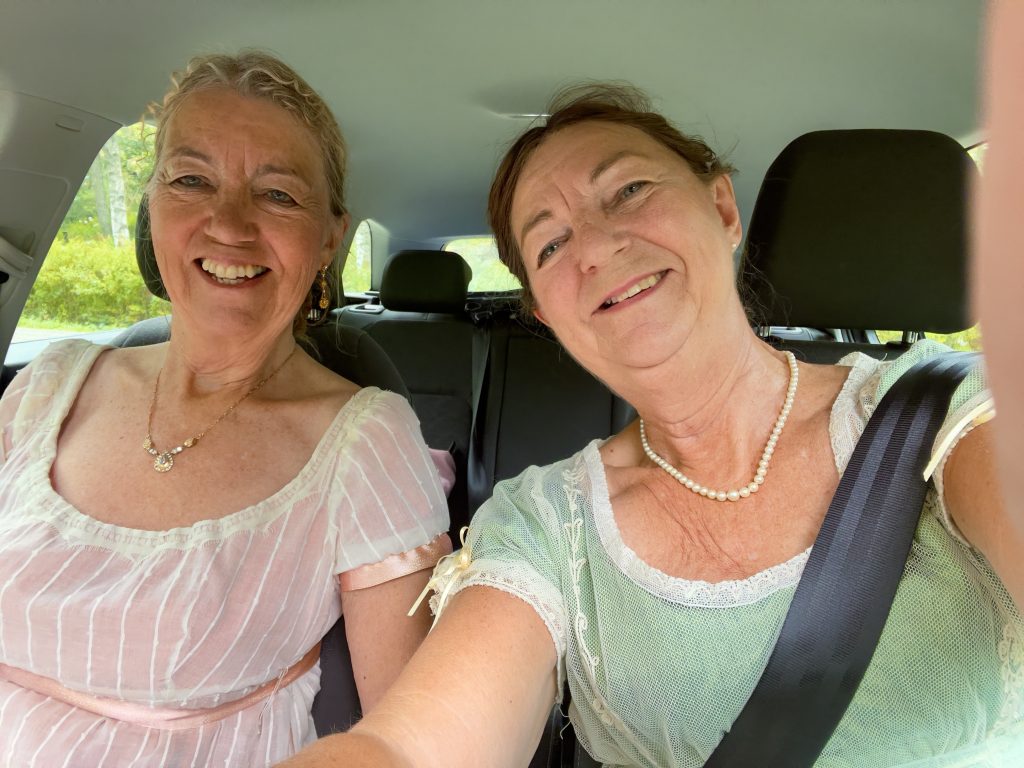 Nu har Sara åter åkt tillbaka till USA och Kerstin har anmält sig till en danskurs under hösten. Vi ser fram emot nästa sommar och nästa empirbal!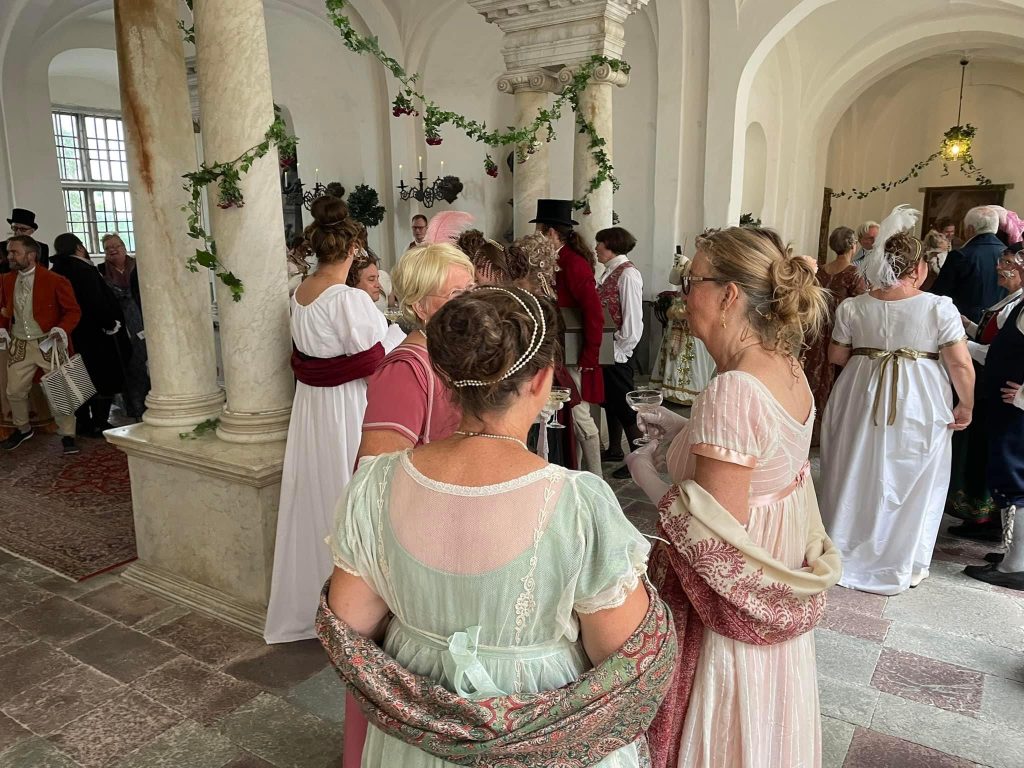 —
Last year we were supposed to go to the empire ball at Skokloster. Kerstin blogged about Augusta's mother's wedding, which was right around that time, and we prepared for the early 19th century. Since we only had dresses in the 1840s-1850s style, we had to sew new ones. We sewed and sewed, first sample dresses and finally the prom dresses.
Sara had a favourite role model, Jane Fairfax in the 2020 Emma movie, with her apricot ball gown. Kerstin had originally intended to sew an 1820s dress with a smock and pearl embroidery, but as the theme of the ball was to be 1805, she finally found a use for a French tulle curtain that had long been on the shelf waiting for a special occasion. And you have to say that the ball was going to be. The role model was:
Town dress with chemisette owned by Empress Josephine, First Empire From the Chateau de Malmaison Costume Collection, but the dress under it, would be green.
Sara also thought about wearing a petticoat and a thinner one over it. The Matilda Ikea curtain was perfect. But it was too white. So began the chemical experiments in Sara's kitchen on Saltarö. Sample colouring in tea, coffee and even turmeric! (Sara is a pro. She was one of the winners of Young Scientists in the 70s with her discoveries in connection with plant colouration)
Kerstin went to Finland for the annual visit to the cottage by the Gulf of Bothnia. She brought all her fabrics and sewed them by hand until late in the evenings, in the evening sun that doesn't set until 10 pm. The only mirror in the house was in the sauna house so she had to run barefoot with the trail of her ball gown winding through the lingonberry rice.
We finished on time! Kerstin came home with the ferry and we met again at Saltarö where we showed each other our creations.
Unfortunately, we were affected by illness in the family and the whole ball project had to be packed up and Sara went home to the USA.
This spring, Sara announced that she would come to Sweden in August! At the same time, it was announced that there would be an Empire ball at Skokloster in August again!
We pulled out our bags of Empire clothes and were delighted that the theme would still be early 1800s.
And last Saturday we dressed in our dresses, Sara in apricot and Kerstin in mint green, and went to Skokloster, where we were part of an incomparable ball!
Now Sara has returned to the USA and Kerstin has signed up for a dance course in the autumn. We look forward to next summer and the next Empire Ball!